Higher Surgical Training Programme 2019/2020 - Trauma - 8th April 2020
Course Full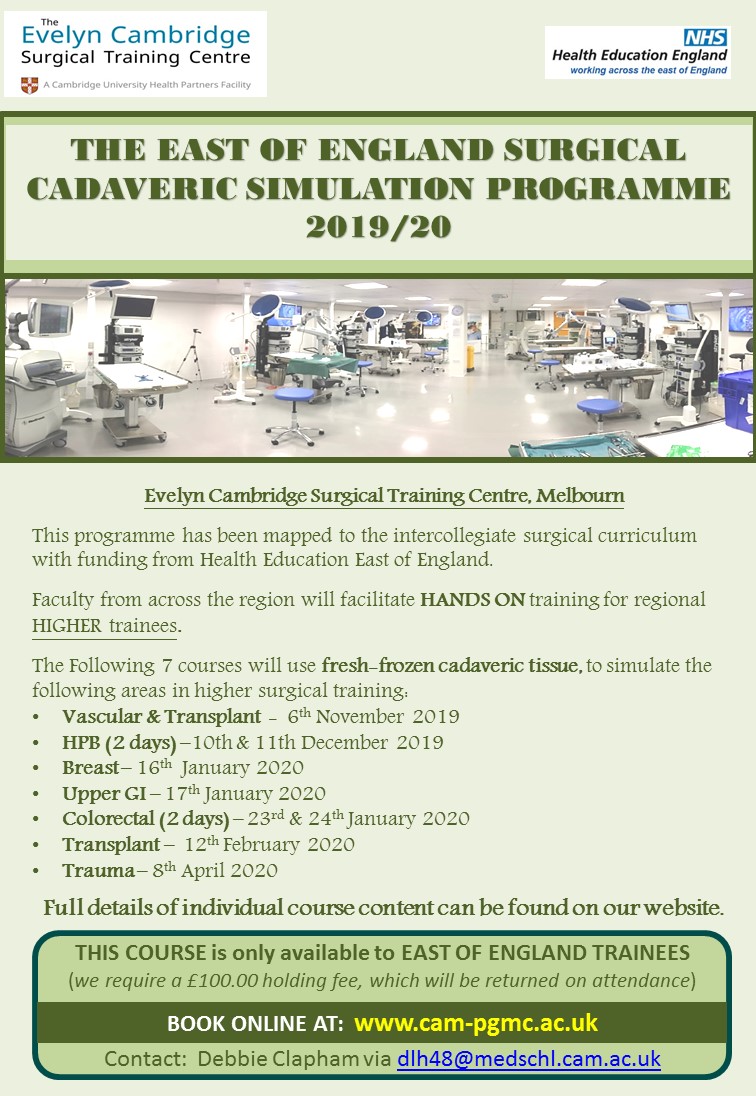 The East of England Surgical Simulation Programme 2019 - 2020
Evelyn Cambridge Surgical Training Centre, Melbourn
This programme has been developed in line with the intercollegiate surgical curriculum with funding from Health Education East of England (HEEoE). Faculty from across the region will facilitate the training for regional Core and Higher Surgical Trainees.
This is a fantastic opportunity for trainees to attend the Evelyn Cambridge Surgical Training Centre which is a unique facility.
Topics covered:
• Trauma Laparotomy
• Packing abdomen
• Assessment of injuries
• Individual organ injuries and approaches
• Chest Trauma (revision):
• Anterolateral & Clamshell Thoracotomy
• Aortic control
• Rapid control of major pulmonary haemorrhage
• Accessing the heart
• Repairing Myocardial defects


This course is for East of England trainees only.
For East of England trainees, we do require a £100.00 holding fee, which will be processed from the card details provided by you if you decide to cancel or if you do not attend on the day. Places cannot be transferred to alternative dates. Places will only be secured once you have inputted the required details on the website and called with your card details.
If further places become available, these will be opened up to external delegates costing £250.00. For further information please contact:
Debbie Clapham
dlh48@medschl.cam.ac.uk
01763 262039
(Mon, Tues & Thurs 9am - 3pm)
Gillian King
gk395@medschl.cam.ac.uk
01223 348885
(Tues to Thurs)
Course Administrator
Debbie Clapham
01763 262039 (Mon, Tues & Thurs)
dlh48@medschl.cam.ac.uk
The course takes place at:
Evelyn Cambridge Surgical Training Centre
01763 262039